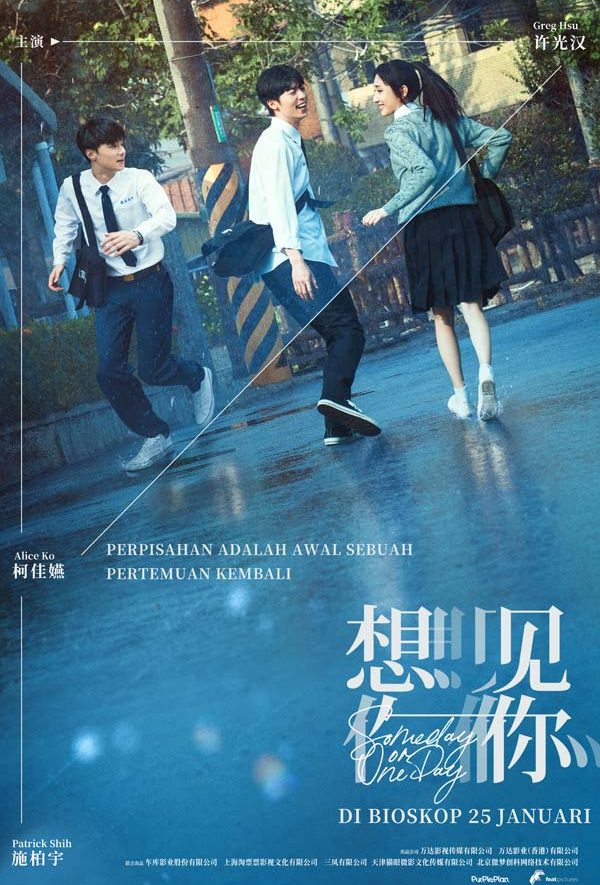 SOMEDAY OR ONE DAY
CGVCinépolis
Setelah reuni dengan LI Ziwei (dibintangi Greg Hsu), HUANG Yu-Hsuan (dibintangi Alice Ko) dan LI menjalani kehidupan yang damai di Taiwan. Tapi hari-hari tenang itu rusak ketika HUANG diberi tahu bahwa suatu hari dia akan diperbantukan ke Shanghai. Meskipun pasangan itu berpisah dalam perselisihan, HUANG masih sangat merindukan LI, dan dia bahkan biasanya memimpikan adegan di mana LI jatuh dari sebuah gedung. Suatu hari ketika dia bangun lagi dari mimpi buruk, dia menemukan semua jejak LI menghilang begitu saja, dan sepertinya dia tidak pernah bersama LI. Lebih buruk lagi, mimpi buruknya segera terbukti benar oleh Mo Jun-Jie (dibintangi oleh Patrick Shih), teman terdekat LI, bahwa LI sebenarnya meninggal karena jatuh dari gedung beberapa tahun yang lalu. Dalam perjalanannya untuk menemukan kebenaran, HUANG menerima a
pemutar kaset misterius. Dengan menekan tombol putar lagu Last Dance, apakah HUANG mampu mengubah nasibnya dan menyelamatkan LI dengan melakukan perjalanan menembus ruang dan waktu?
After reunion with LI Ziwei (starring Greg Hsu), HUANG Yu-Hsuan (starring Alice Ko) and LI live a peaceful life in Taiwan. But the calm days are broken when HUANG is informed one day she will be on secondment to Shanghai. Though the couple is parted in discord, HUANG still misses LI deeply, and she even usually dreams of a scene where LI falls from a building. One day when she wakes up again from the nightmare, she finds all trails of LI are simply vanished, and it looks like she has never been together with LI. Worse, her nightmare is soon proved to be true by Mo Jun-Jie (starring Patrick Shih), the closest friend of LI, that LI is actually died from falling a building several years ago. On her way to find out the truth, HUANG receives a
mysterious cassette player. By pressing the play button of the song Last Dance, is HUANG able to change their fate and save LI by traveling through time and space?