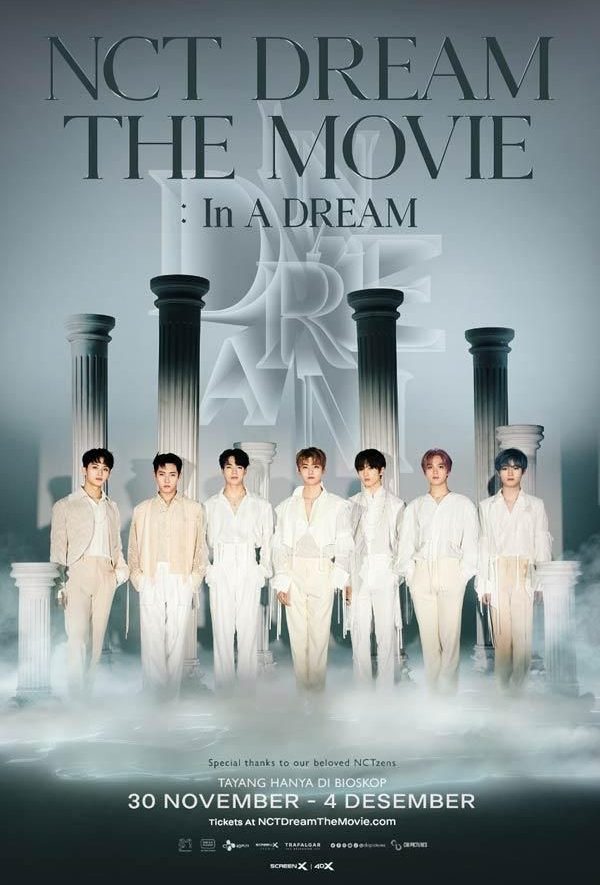 NCT DREAM THE MOVIE : IN A DREAM
CGVCinépolis
NCT DREAM mempersembahkan film pertama mereka; NCT DREAM THE MOVIE: In A DREAM di bioskop seluruh dunia.
Film ini akan menampilkan pertunjukan dengan kekuatan hebat dari tujuh anggota NCT DREAM yang direkam selama konser solo kedua mereka; "NCT DREAM TOUR 'THE DREAM SHOW2 : In A DREAM," di stadion ikonik Olympic Stadium, stadion terbesar di Korea Selatan dan tempat konser impian para musisi.
Event yang tidak dapat dilewatkan ini juga menampilkan di balik layar, wawancara eksklusif di belakang panggung, dan bayangan masa depan para member saat jauh dari panggung!
NCT DREAM present their first film NCT DREAM THE MOVIE : In A DREAM in movie theaters worldwide.
The brand-new film features high-energy performances with the seven members captured during their second solo concert, "NCT DREAM TOUR 'THE DREAM SHOW2 : In A DREAM," at the iconic Olympic Stadium, the largest stadium in South Korea and the dream venue for music artists.
This unmissable event also includes behind-the-scenes footage, exclusive backstage interviews, and a look at the future the members envision away from the stage!